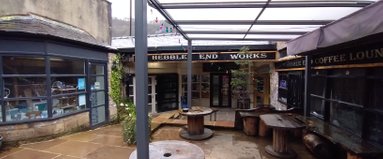 We are delighted to announce that our new studio in Hebble End Works, close to the heart of the wonderful market town of Hebden Bridge, is now up and running.
Our aim is to encourage everyone to become their own astrologer as when astrology is properly understood and practiced correctly it becomes an invaluable diagnostic tool enabling one to flourish simply by being properly aligned with their soul's purpose in this lifetime through self-realisation.
We have the knowledge and experience to assist you in truly knowing yourself.
Visitors are welcome to call in, say hello and even win an instant £5.
For all our news and offers you are invited to join our public Telegram group which will remain our only online presence/social media offering besides this website as we strive to limit the over-saturated digital world.
We shall hopefully look forward to seeing or hearing from you soon.